Free Stock Portfolio Manager Google Sheets™
With Stock Profit, you can calculate the profit or loss on your share trades. You can use this report to calculate your capital gains or losses.
Stock profit is a free Sharesight alternative. 
As of April 2023 Sharesight has removed CGT report from their free version.
Stock Profit can help with CGT reports.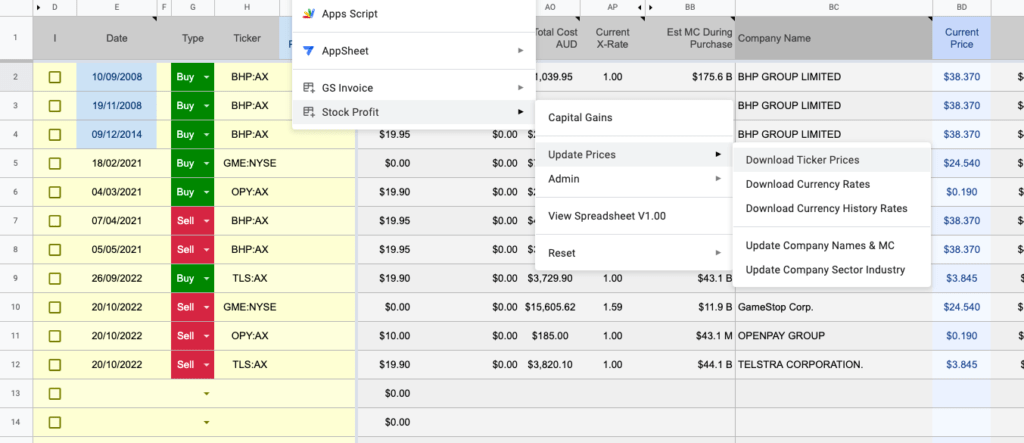 Amazing Features
Multiple Portfolios
Multiple Currencies
Download Latest Ticker Prices
Download Historical Currency Rates
International Exchange Support
Automatic & Manual Deferred Tax Calculation
Stock Split Management
Swing Trading
Dividend Tracking
Income Trust Tracking
Basic Crypto Support
CSV Transaction Importer
And Much More!
Amazing Capital Gains Calculator
Accurate Capital Gains / Loss Calculator

ATO Compliant
Any Buy / Sell Combination (cross broker support)
AMIT cost-base adjustments (Deferred Tax)
FIFO
LIFO
Highest Profit
Biggest Loss
CGD trades with highest profit first
CGD trades with lowest profit first
Non – CGD trades with highest profit first
Non – CGD trades with lowest profit first

Multiple Tax Rate Support

Individual
Company
SMSF
Discretionary Trusts
Watch the quick introduction
Using Google Sheets™ you can manage your stock portfolio.
Understand exactly how your investments are performing with 20 minute delay price & currency updates, plus powerful reports and state of the art capital gains calculator.
What is the CGT report and why is it important?
The capital gains tax (CGT) report is a tool that helps investors calculate their capital gains or losses from selling shares.
This report is necessary for completing tax returns and complying with Australian tax laws. 
The CGT report is an important tool for investors.
Subscribe to Support
If you find Stock Profit useful, please consider subscribing to help with hosting and data costs.